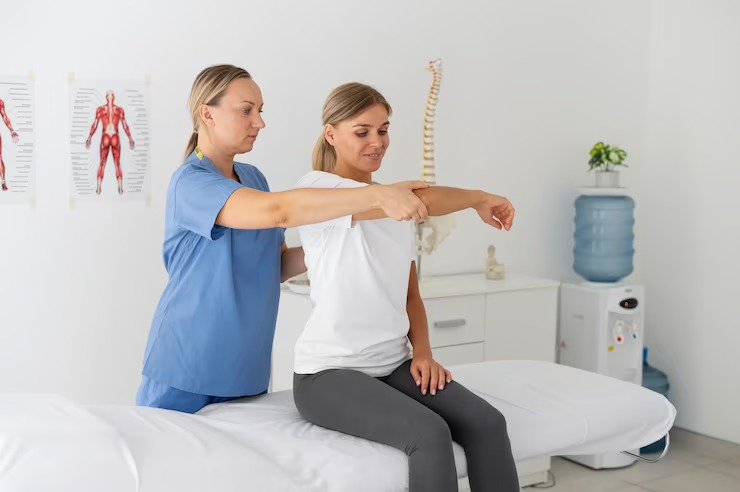 WHAT IS PHYSICAL THERAPY?
Individuals with functional impairments can be evaluated, assessed, and treated in physical therapy, a field of medicine. Professionals who have been granted a licence by the state where they work offer physical therapy services. These experts are qualified to diagnose the situation and aid in regaining the most mobility and independence possible. To help the patient move and feel better, they employ a number of therapeutic modes and procedures.
HOW DOES PHYSICAL THERAPISTS WORK?
To ensure a quick and safe recovery to full function, physical therapists collaborate closely with patients, other medical professionals, and family members. The total condition is evaluated and assessed by a physical therapist. He or she might obtain details regarding the disease or injuries. Typical impairments that are measured could be:
Strength

Range of motion

Flexibility

Balance

Joint mobility

Neurological function

Pain

Cardiac function

Pulmonary function

Overall functional mobility issues.
The physical therapist will make a diagnosis of the ailment and create a treatment plan to help the patient move better and feel better after learning more about the sickness or injury.
WHAT TO EXPECT DURING TREATMENT?
Physical therapists employ a variety of approaches to help reduce pain and stiffness and enhance strength, mobility, and movement. It is possible to utilise electrical modalities including cryotherapy, thermotherapy, ultrasound therapy, transcutaneous electrical stimulations, laser therapy, shockwave therapy, etc. To aid in enhancing mobility and reducing stiffness, manual approaches are frequently employed. Physical therapists frequently recommend exercise to patients in order to increase their strength, range of motion, and overall function. Physical therapy also emphasises the importance of educating patients about a condition or ailment.
WHERE TO GET PHYSICAL THERAPY DONE?
Physical therapists can be found working in a variety of contexts, such as:
Hospitals,

Nursing homes,

Outpatient clinics,

With sports teams,

In schools,

In-home (if the patient is unable to leave due to illness or injury),

Cardiac rehabilitation centers,

Sports team.
WHAT ARE THE BENEFITS OF PHYSICAL THERAPY?
Regardless of age, physical therapists provide care to patients throughout their entire lifespan. A physical therapy evaluation may be necessary to recommend a course of action and an improvement plan for function. A particular group, such as youngsters, the elderly, or athletes, is treated by physical therapists with:
Pain after injury,

Physical impairment,

Limited normal movement,

Muscle weakness,

Joint hypo or hypermobility,

Impaired mobility,

Loss of function,

Pain,

Prevent injury and loss of function.
WHO CAN BENEFIT FROM PHYSICAL THERAPY?
Beyond the stated disorders, physical therapists can handle a wide range of ailments. A physical therapist can provide assistance when a condition restricts one's capacity to move around safely or normally due to illness or accident.
Conditions Physical therapists treat patients like:
Musculoskeletal conditions like arthritis, post-fracture, etc.

Neurological conditions like spinal cord injury, carpal tunnel syndrome,

stroke

, etc.

Pediatric conditions like torticollis,

club foot

, cerebral palsy, etc.

Geriatric conditions like

osteoarthritis

, joint pain, etc.

Sports conditions like ligament injury. Sprains. Etc.

Women's conditions, pre and post-partum pain weakness, stress incontinence, etc.