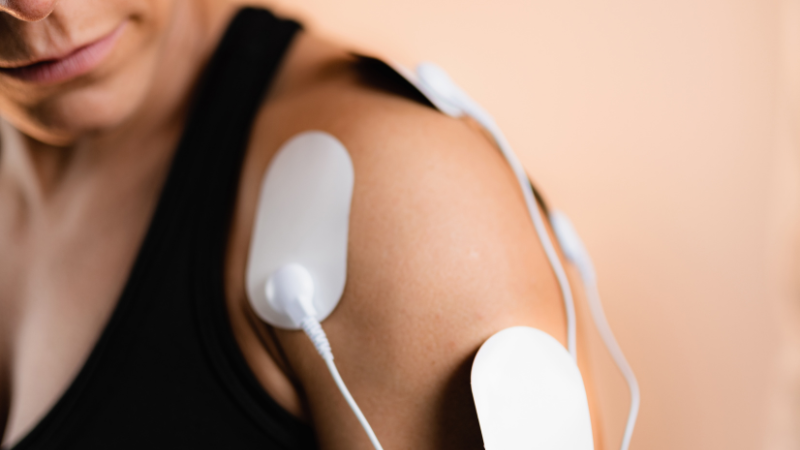 WHAT IS TENS AND WHAT ARE ITS TYPES?
It is one of the electrical stimulation techniques whose main goal is to temporarily relieve some symptomatic pain by stimulating sensory neurons. TENS units operate by providing tiny electrical impulses through electrodes that are attached to a person's skin with adhesive pads. This overflow of electrical impulses impairs the nervous system's capacity to communicate pain messages to the brain and spinal cord.
It is broadly categorized into 3 types:
Conventional TENS (HIGH):
It lasts for 30 minutes and uses low intensity/high frequency current to create a strong but comfortable feeling.
Acupuncture-like TENS (LOW): 
It entails passing a low-frequency, high-intensity current over acupuncture points or muscles to create a powerful but comfortable sensation. It doesn't last more than 20 minutes.
Brief Intense TENS: High frequency/high intensity electricity is used in this process. It doesn't go on for longer than five minutes.
HOW DOES TENS WORK?
Pain modulation
A painful physical or chemical stimulus stimulates peripheral receptors, which are then transmitted by peripheral nerves to the spinal cord, up the cord, through the brainstem, and finally to the cerebral cortex, where the pain is felt by the conscious level. The modulation of pain is accomplished through the inhibition of impulses as they travel from the synapses along this path to the cortex.
Chemicals released during tissue damage or those that accumulate as a result of metabolic activity can trigger nociceptive nerve endings, generating an electrical potential. The quantity of chemicals present determines the level of excitement that is generated. It is hypothesized that removing these chemicals may help lower the intensity of nociceptive stimulation, and that physiotherapeutic agents (ice and heat) that influence circulation may facilitate this.Either a slower myelinated Ad (delta) fiber or a quicker unmyelinated C fiber transports the nociceptive stimulus to the cord. Both will ultimately pass through the posterior route and enter the cord. Theoretically, a physiological block of conduction could happen if a greater frequency of stimulation is given because both of these fibers have a maximum frequency at which they can conduct. TENS creates the necessary energy and thus has this result.
WHAT ARE THE SYMPTOMS AND CONDITIONS TREATED BY TENS?
An appropriate degree of pain relief can be administered using the controls on a TENS unit. It can be done by adjusting the impulse's power, frequency, and length. It might be useful in addressing the symptoms listed below:
Chronic pain syndromes
        Period Pain

        Labor Pain

        Postoperative Pain

       

Joint Pain

        Muscular pain

        Ligamentous pain

        Tendinitis pain

        Neck and Back Pain
  IT may also alleviate the pain that results from the following:
Endometriosis
Arthritis
Sports Injury
 Multiple Sclerosis
 Fibromyalgia
 Myofascial trigger points
  Painful Diabetic Neuropathy
   Spinal Cord Injury
   Amputation
WHAT ARE THE LIMITATIONS OR SIDE EFFECTS OF TENS?
It is safe for most people to use a TENS unit, with usually no side effects but,
Some people may find the buzzing, tingling, or prickling feeling brought on by a TENS device to be uncomfortable.
Adhesive pads could cause allergies in some individuals. Anyone who has skin irritation and redness can transition to hypoallergenic products.
Never put electrodes over the eyes because they could hurt them, or on the front of the neck because they could reduce blood pressure.
WHAT ARE THE CONTRAINDICATIONS FOR TENS?
Even though TENS therapy is generally considered safe, experts advise against using it on certain populations unless a doctor specifically suggests it.
The above recommendation applies to the following people:
She should refrain from applying it to the abdomen and hips while pregnant.
People with Epilepsy: Putting electrodes on someone's cranium or neck can cause a sudden disruption in their brain function.
 People with Heart Problems
individuals who have a pacemaker or another form of metal or electrical implant
WHAT ARE THE TREATMENT PARAMETERS OF TENS?
Treatment parameters
Pulse shape –  usually rectangular.
Pulse width – is measured in microseconds and is between 100 and 500 us.
Frequency – can range from 2 Hertz to 60 Hz in frequency. Commonly, a frequency of 150 Hertz is employed. The therapist has the option of choosing and changing the cadence.
Intensity – can be changed on many devices between 0 and 60 milliamps (mA). A tingling feeling should be felt, and the intensity can be adjusted by the patient or the therapist.
Patients with chronic pain syndromes can receive a variety of treatments due to the broad variance in pulse width, frequency, and intensity.
HOW IS TENS APPLIED?
On the patient's epidermis, vacuum electrodes or rubber electrodes are strapped or fixed with adhesive tape, covered in conductive gel. Clothing can hide the wires that link the electrodes to the device.
Positioning of electrodes
A number of approaches may be used. Electrodes can be placed over
        Acupuncture points, motor points or trigger points.

        Area of greatest intensity of pain

        Appropriate dermatome or spinal segment

        Appropriate peripheral nerve
It is ideal if the skin beneath the electrodes is in a sensory-mechanism-intact state because the impact on pain is generated by the large-diameter afferent sensory stimulation caused by the TNS current acting on the skin. Setting the parameters will allow the TENS to be administered after the electrodes have been placed.