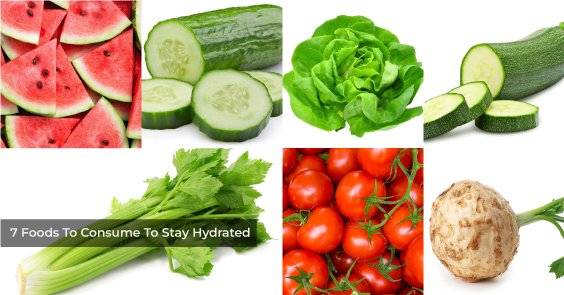 Staying hydrated is crucial, whether during the hottest months of May or June when the temperature soars close to boiling point or the wet or coldest months of January or February. According to the best general practitioner in Ahmedabad at Galaxy Hospital, being well-hydrated is essential to good health. Serious health issues like dehydration, exhaustion, muscular aches, cramps, joint problems, low blood pressure, constipation, etc. can result from insufficient water.
To address hydration needs, the best general practitioner in Ahmedabad at Galaxy Hospital advises consuming at least 2 liters of water daily.
To keep the body's level of hydration at a healthy level, Galaxy Hospital Experts also recommends the following 7 foods:
Watermelon
Watermelon is one of the best fruits for keeping hydrated and refreshed during the summer. According to the top general practitioner in Ahmedabad, watermelon has an excellent water content of 92%, which gives the body the hydration and energy it needs. In addition to having a high water content, watermelon is a great source of dietary fibre, Vitamin A, Vitamin C, and magnesium. Watermelon's great nutritional value enables one to maintain health even in the sweltering heat. Antioxidants included in watermelon help to protect cells and tissues from deterioration. Moreover, watermelon is a great option for weight loss because it has relatively few calories.
Cucumber
In addition to being a powerhouse of nutrients that promote health, cucumbers also have a high water content of almost 95%. These are the most hydrating and nutrient-dense foods, according to Ahmedabad's top general practitioner at Galaxy Hospital, and you absolutely must include them in your regular diet, especially during the summer. Cucumbers are a blessing if you want to lose those extra pounds because they contain significant levels of nutritional fibre. Constipation, acid reflux, and other digestive issues are known to be resolved by cucumbers.
Lettuce
Have you ever wondered why most dieticians advise including lettuce leaves in your meals? This is due to lettuce's outstanding water content, which is 96%. Vitamins A and K, which are known to strengthen the immune system, are present in lettuce in good concentrations. Moreover, lettuce offers the daily need for folate, which is crucial for pregnant women. The fact that lettuce is adaptable and can be easily consumed with a range of meals, including sandwiches, buns, salads, and wraps, is one of its best qualities. But eating lettuce as a salad is one of the healthiest ways to consume it.
Zucchini
Despite being frequently used in Italian dishes, courgette is a fantastic source of water, according to the best doctor in Ahmedabad at Galaxy Hospital. Almost 90% of courgette is made up of water, and it is also rich in protein, fibre, and vitamin C, all of which can help you build a stronger immune system. Like lettuce, courgette is simple to include in your diet. It goes well with a range of foods, including salads, soups, broths, and other dishes.
Celery
Again, celery is a wholesome and nutritious food that you should include in your diet. Celery has a remarkable 95% water content. It promotes weight loss and has a very low-calorie count. The majority of dieticians advise including celery in the diet in some capacity because it aids in weight loss and provides the recommended daily allowance of nutrients. Celery can be consumed both raw and cooked.
Tomatoes
In addition to being flavorful and juicy, tomatoes are also incredibly hydrating. You've probably heard that tomatoes can help you meet your vitamin C needs, but did you know that they also include a significant amount of dietary fibre and around 94% of water? The simplest vegetable to include in meals is a tomato. Tomatoes are quite nutrient-dense and can be used in salads, soups, broths, and other dishes. Also, tomatoes are rich in antioxidants like lycopene, which significantly reduces the risk of cellular damage, according to The Best Doctor in Ahmedabad.
Conclusion
We hope that this blog about 7 foods item helps you during these summers to keep the body's level of hydration at a healthy level. For the best health consultation along with diagnosis and treatment visit a Physician in Ahmedabad at Galaxy Hospital. It is important to remember that staying hydrated is crucial for overall health, especially during the hot summer months. In addition to consuming these 7 foods, it is also important to drink plenty of water throughout the day. If you are experiencing any symptoms of dehydration or other health concerns, it is recommended to seek professional medical advice. At Galaxy Hospital in Ahmedabad, our team of experienced physicians can provide personalized health consultations, accurate diagnosis, and effective treatment options. Don't hesitate to schedule an appointment with us today for optimal health and wellness.