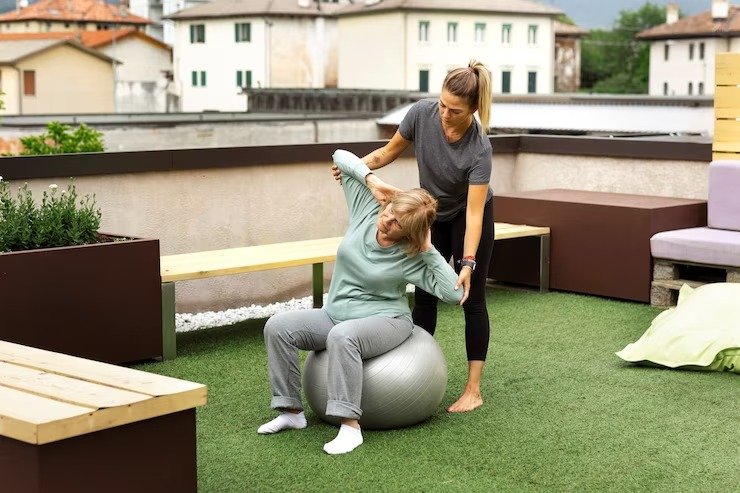 WHAT IS WOMEN'S HEALTH PHYSIOTHERAPY?
Women's Wellness The field of physiotherapy was developed from the clinical discipline of obstetrics and gynaecology and deals with the treatment of incontinence, the care of women undergoing gynaecological surgery, and the antenatal and postnatal care of women in relation to childbirth. The field of service has now grown to include all health challenges of women: incontinence, pelvic/ vaginal pain, and prenatal and postpartum musculoskeletal pain, and osteoporosis, rehabilitation following breast surgery, lymphedema, education prevention, wellness and fitness. Physical therapy is beneficial for all females across the lifespan, including young athletes, women with children, menopausal women, and elderly women.
THE WAY IT WORKS
Your presenting ailment will determine how you are evaluated and treated. Typically, it begins with gathering a private and thorough history. Even though it might be challenging to talk about these delicate subjects, knowing when your symptoms started and how they affected your everyday life is crucial to determining how to proceed with your treatment. The physical inspection will most likely begin with examination of your abdominal muscles, pelvis and lumbar spine. The tone, strength, and control of your pelvic floor muscles can be determined by performing this crucial aspect of your test. Finger probing will be used to evaluate the pelvic floor muscles and connective tissue for signs of pelvic organ prolapse, signs of injury or scarring, muscular tone, tenderness, sensation, and neural sensitivity.The strength and endurance of the pelvic floor muscle will then be examined. Finding out whether the left and right, superficial and deep pelvic floor muscles are cooperating is crucial. If not, figure out why. The results of the assessment will be discussed with you, and the course of therapy will depend on the results and your symptoms.
CONDITIONS TREATED.
Women's unique medical issues, such as pelvic floor disorders, are treated through physical therapy. For millions of women, pelvic floor dysfunction and pain is a persistent problem. Women who suffer from weak pelvic muscles or rips in the connective tissue surrounding the pelvic organs develop pelvic floor diseases. Many women are unaware of the various forms of therapy that might help them manage their pain and enhance their quality of life.
Women's health professionals may treat a variety of illnesses, such as:
  Loss of bladder control, stress urinary incontinence or mixed incontinence

 

Frequent or sudden urges to urinate

 

Discomfort related to the bladder and/or urethra

 

Dropping of the pelvic organs; including bladder, bowel, rectum, uterus, vagina

 

Loss of bowel control

 

Constipation

 

Pelvic floor muscle weakness, tightness, or pain

 

Pelvic pain, including but not limited to vulvar pain, pain with urination, vaginal pain

 

Pain and dysfunction during and following pregnancy

 

Additional Women's Health Physical Therapy Services

 

Breast cancer, including lymphedema management and congestive decongestive therapy

  Osteoporosis

  Pre-and post-partum low back pain and general deconditioning

Dysmenorrhea 
WHO WILL BENEFIT?
You should give physiotherapy considerable consideration throughout pregnancy. To ease any discomfort or agony, this covers prenatal, during pregnancy, and postnatally. Many pregnant women feel lower back pain, which can make it difficult for them to obtain a good night's sleep and go about their daily activities.Through stability exercises that concentrate on the muscles surrounding your spine, physical therapy is an efficient technique to alleviate any lower back aches and pains. Both pregnant and non-pregnant women can benefit from the control and reduction of back pain provided by physiotherapists. The most crucial treatment we can provide to women before to, during, and after pregnancy is certainly pelvic floor therapy.This type of physiotherapy focuses on treating the muscles in the base of the abdomen that join to the pelvis that support bladder, bowel, and uterus functions for women. Prenatal pelvic floor physiotherapy will minimise any harm to the pelvic area and assist your body get ready for labour. In order to strengthen your potentially stretched, strained, and frequently torn pelvic muscles, postpartum care is also crucial. Treatment for the pelvic floor can stop lower back discomfort and urine incontinence both before and after childbirth. Pregnant women should generally consider physiotherapy as a terrific and secure way to maintain their level of activity, which is essential for a simpler delivery.