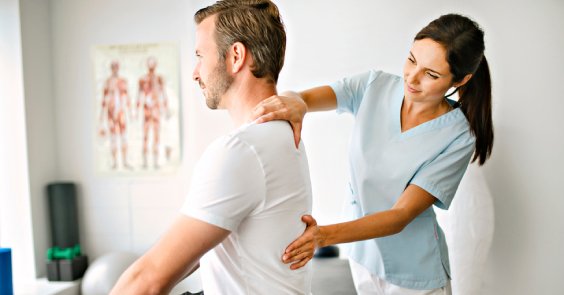 Physiotherapists play a vital role in helping people of all ages achieve and maintain their optimal physical functioning, thereby improving their quality of life. By providing individualized assessments, interventions, and education, physiotherapists can help individuals improve mobility, manage pain, restore function to those who have experienced injury or illness, and maintain overall health through the use of exercise and other manual techniques. If you are looking forward to getting physiotherapy to get rid of pain, gain mobility, or after surgery of Joint Replacement you can contact Galaxy Hospital for a Physiotherapist in Ahmedabad.
Introduction
Physiotherapists also work collaboratively with physicians, family members, caregivers, and other healthcare professionals to ensure that a person's therapy is tailored to their specific needs and goals for enhanced health and well-being. Whether seeking relief from chronic pain or recovering from the effects of a sports injury or stroke, physiotherapy can significantly increase the quality of their living experience by allowing them to return to their everyday activities with ease.
The Benefits of Physiotherapy
Physiotherapy is an incredibly useful tool to help maintain your physical well-being. Whether you're dealing with a chronic condition, working through an injury, or looking to improve your performance during sport or exercise, physiotherapy can be incredibly beneficial.
It can help you identify the areas that need strengthening and work with you on improved movement patterns for better use of these muscles and joints.
Physiotherapists also use specific treatments such as massage and manipulation to help reduce pain and inflammation, promote healing, improve mobility, increase strength and flexibility and even improve posture.
Physiotherapy not only assists in improving physical movement but also behavior; an important factor when returning from a painful condition.
With improved mobility from physiotherapy comes increased energy levels, reduced fatigue, and improved balance and coordination; giving you a greater sense of overall well-being.
Dr. Neha Bhuva a physiotherapist in Ahmedabad at Galaxy Hospital can help you with various medical conditions and injuries. They provide a wide range of treatments, including manual and therapeutic massage, rehabilitation, and more.
The Principles of Physiotherapy
Physiotherapy is an incredibly important profession that is focused on aiding people in achieving a variety of healthcare goals. It incorporates a broad range of physical activities aimed at promoting improved movement, health, and well-being.
The principles of physiotherapy are based on the idea that a combination of different therapeutic techniques including manual therapy, exercise prescription, education, active patient involvement, and lifestyle modification can benefit many individuals with both long-term and acute conditions.
Healthcare professionals use these techniques to assess a patient's condition before proceeding with a personalized treatment plan.
These plans often include functional exercises, specialized massage techniques to treat pain or discomfort, posture correction strategies, breathing exercises to relieve stress or improve vitality as well as advice on lifestyle changes such as healthy eating habits or ergonomic workspace setups.
Physiotherapists are highly trained medical professionals who strive to provide the best possible care for their patients so they may live life to the fullest!
The Role of the Physiotherapist in Rehabilitation and Physical Therapy
The role of the physiotherapist in rehabilitation and physical health is essential. They are highly trained professionals that use a variety of techniques and modalities such as joint mobilizations, strength training, electrical stimulation, and exercise prescription to help their patients regain function, strength, balance, and flexibility.
Physiotherapists also offer advice on posture-strengthening activities, how to prevent re-injury, and lifestyle modifications to help optimize healthy living. They provide comprehensive assessments, individualized treatment plans, and evidence-based interventions tailored to each patient's specific needs.
A physiotherapist can work with a variety of different populations including amputees, athletes recovering from injuries, or those simply wishing to stay active or improve their mobility or condition. This broad range of specialties makes them valuable members of any healthcare team and an integral part of helping people return to optimal levels of functioning.
Conclusion
If you're dealing with an injury or disability, or just want to be proactive about your health and fitness, seeing a physiotherapist in Ahmedabad at Galaxy Hospital can be an excellent way to help improve your physical well-being. The professionals at Galaxy Hospital will assess your needs, create a customized treatment plan tailored specifically for you, and use various therapeutic approaches such as exercise, manual therapy techniques, and patient education to help improve your range of motion, strength, flexibility, and posture while helping reduce pain. In addition to treating injuries or disabilities related to sports activities, they can also help those who have experienced additional challenges due to aging or illness.